October Tasting Trail
Every Saturday in October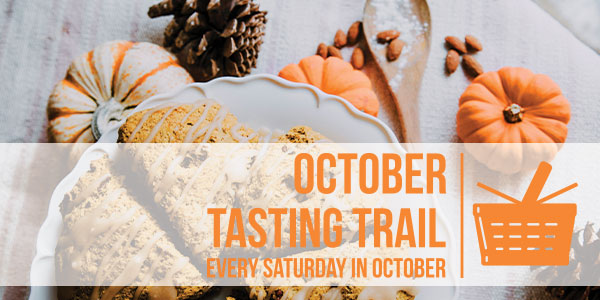 GETTING STARTED IS EASY!
Buy your $10 Passport
FOLLOW THE OCTOBER TASTING TRAIL
ENTER FOR A CHANCE TO WIN
*Proceeds will be donated to the seasons centre for grieving children
Follow the #OctoberTastingTrail by purchasing your $10 passport at a participating eatery and taste your way through Downtown Barrie, enjoying free samples during select times on Saturdays throughout the month of October. Visit 10 or more participating locations and your passport will be entered into a draw for a $250+ prize package! This year's passport proceeds will be donated to the Seasons Centre for Grieving Children.
 For a list of participating locations and times, click here.
Location Schedule
10:30 – 12:30pm - Renegade Health Bar 50 Dunlop Street East
11:00 – 1:00pm - Homestead Artisan Bakery 80 Dunlop Street East
11:00 – 1:00pm - Flying Monkey Craft Brewry 107 Dunlop Street East
11:30 – 1:30pm - Ripe Juicery 118 Dunlop Street East
12:00 – 2:00pm - Barrie Olive Oil Company 45 Dunlop Street East
12:00 – 2:00pm - Nourish Café @ Nutrition Plus 42 Maple Avenue
12:30 – 2:30pm - Barrie Bean Counter 49 Dunlop Street East
1:00 – 3:00pm - J'Adore Fine Cheese & Chocolate 123 Dunlop Street East
1:30 – 3:30pm - Swirleez Frozen Yogurt 89 Dunlop Street East, Unit #101
2:00 – 3:30pm - Unity Café 25 Toronto Street
2:00 – 4:00pm - Grilled Cheese Social Eatery 53 Dunlop Street East
2:30 – 4:00pm - Lazy Tulip Café 29 Maple Avenue
5:00 – 6:30pm - Chillz Dessert Lounge 89 Dunlop Street East, Unit #102
2:00 PM – 6:00pm - Sat. Oct. 20th, 2018 - Five Points Theatre, presented by Pratt Homes - 1 Dunlop Street West
2:00 PM – 6:00PM - Sat. Oct. 27th, 2018 - Centro + drôrs Studio - 98 Dunlop Street West